KUBUS BCF
Solibri Maintenance Customers can download and use 5 KUBUS licenses per Solibri license.
If you need the details of your KUBUS licences, please email us at solibri@cadimagegroup.com.
To download your KUBUS software your need to login to Solibri Solution Center. You will need to be either an 'Admin User' or a 'Standard User with Buyer Rights', in order to access the KUBUS downloads.
Once logged in:
Go to the Products View page
Choose your Platform (Mac, Win 32 or Win 64)
Scroll to the KUBUS product
Choose your Authoring Software type (ArchiCAD or Revit)
In the Version pulldown click the KUBUS Build number you wish to download (typically it will be the biggest number)
The download process will then start.

Once downloaded, you can run the Installer for your specific Authoring Software (Note: There will be multiple Installer files within the downloaded zip, please choose your versions correctly).
 
Simply hit Next through the Installer to install into the default location.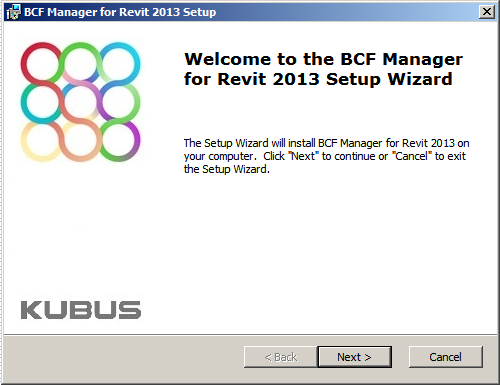 Once the Installer completes, hit Finish.
 
Open your Authoring Software.
 
In Revit KUBUS BCF Manager is found within Add-Ins:

In ArchiCAD KUBUS BCF Manager is found within the top Menu:



Now you need to Activate your Copy of KUBUS.
Open the Info tab, and hit the Activate button.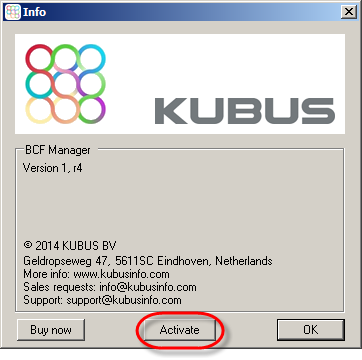 Enter your supplied licence code and hit OK.

KUBUS BCF Manager is now ready to use.
 
For more information, please read the Manual-BCF-Manager.pdf within the downloaded zip file for basic use instructions.
---
Need help?    Contact Support